Last night I dreamed I was a size 6. And was Rich, Really Rich. And dressed in this shirt from
Gorsuch
: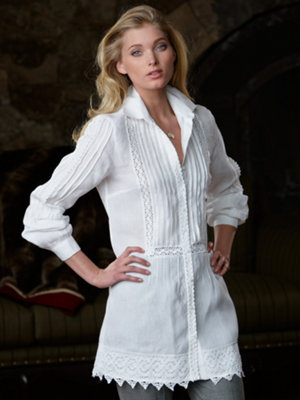 Valentina Shirt, made in Austria. Available at
Gorsuch
.
And that a banker, who was a dead ringer for Cary Grant, was set on winning me for his own. And was wining and dining me around the great cities of Europe. Now THAT is the way to dream!
This morning, I find myself still in that fairy-fog, and remembering that fabulous Rocky Mountain shop I spent time in last month. I knew the name,
Gorsuch
, but hadn't ever seen one of their shops. I quickly learned why: they are only in Colorado~
This is their Vail Shop - doesn't this photo make you want to get in skiing shape?? And go strolling through twinkly snow-draped villages in the Rockies?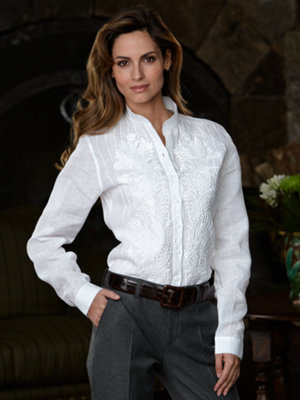 Elisa Shirt. Linen. Made in Austria, available at Gorsuch.
One of those Pop-Up Rocky Mountain storms came through, right after I entered the shop, so I was Trapped Inside Gorsuch! Legally. And met a very knowledgeable and personable shop-lady, who had transplanted from the East Coast to Breckenridge some years ago. After watching me finger the goods for less than two minutes, she had me pegged and moved forward to steer me to this: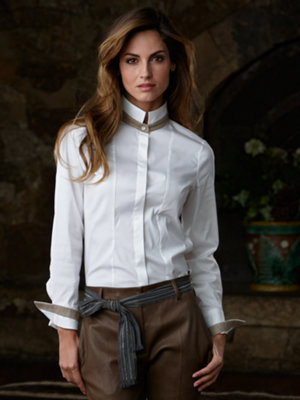 Nikki Shirt by Brunello Cucinelli. At Gorsuch.
Only problem is, well, this shirt retails for $918.00. But it is fabulous.
After last night's dream, I've made a pact with myself: If I get back to eating healthy, swimming every other day, and loose 10 pounds, I can have a shirt from Gorsuch. Promise. Maybe not the Nikki Shirt (sigh!), but the Anna Shirt is only $418.00...and gorgeous:
I think this all came about because I was reading through the archives of
To The Manner Born's
Blog, and ran across a post that Toad made about clothing from a shop in Charleston, SC called
Ben Silver
. When I followed that link I found this Little Black Dress: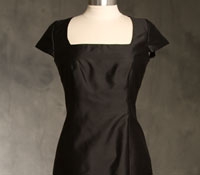 Black Cap Sleeve Dress. By Petrovitch & Robinson, available at Ben Silver.
Which is also going on the Need This list.
After I loose those pounds.
Time to go swim a mile or two!