NEWS FLASH!! My Guys and Gals won the SKA Nationals for the second time!!! And, my 6 year old grand daughter was on board since Dark-Thirty in the morning to round out the team, true to form.
Thankfully, my Daughter-in-Law, Stephanie, was right in front of the stage and she captured the team on camera only seconds after they learned they were in First Place: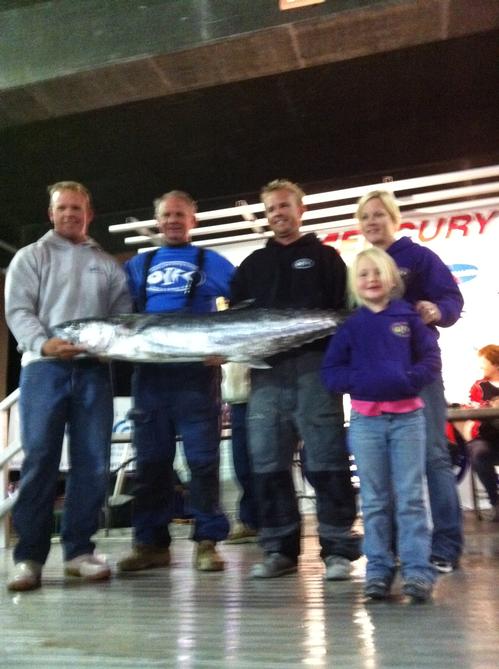 Image courtesy Stephanie Beach McMullan
They were near the back of the line to weigh in...not unusual, because they like to fish until the last minute. Which gives me heart failure, because if something goes wrong, or if there is any glitch, you can miss the cut-off time to be in line to weigh your fish. Period. It has happened in many tournaments, and is heart-breaking.
Husband finally answered my frantic text and phone messages with a cryptic text to let me know they were in line, but then went silent on me. No matter how many calls or texts...silence. So, I knew they were either not happy and confident with their catch, or they were sandbagging and had another Whopper. Which would not only win the National prize, but an extra $100,000.00 if it was over 74.10 pounds. I bounced between the two possibilities for the better part of two hours, and sent a final text to him that the aggregate weight to beat was 100.60 pounds. Dead silence.
Chatter picked up on the Live Stream that there was an 80 pound King coming to the scales, and it wasn't my Team. Things started heating up, with sniping and "Oh yeah? Just cross this line..." sort of stuff. One chatterer even claimed to have seen the photo of the $100k fish lying in the boat of whoever had caught it. Others claimed to be in touch with that boat, and said they were at the back of the weigh-in line.
I just wanted to see Team OIFC load up the stage with their fish bag.
Suddenly, I could see behind the MC a little platinum blonde girl, being ushered onto the stage by her equally blonde Mommy. And knew the moment had arrived. Husband and two sons all lumbered up on stage, hauling a pretty heavy looking bag, while the MC was chattering away about the monster King they had caught in 2009, and was this another one? The Weigh Master zippered it open. A hush fell over the crowd. And the MC, true to form, leaned over and looked in the bag and said... "Well, THAT'S not a 74 pounder in there!" And the crowd sighed.
The Weigh Master slipped a rope around the first King's tail and levered it up to the weighing hook. As the fish stopped swaying, I could see Barrett looking at the digital read-out. And saw his eyebrows shoot up. The MC announced, "48.43 pounds!" I could see them looking at each other and something zinging between all of them. The second fish hit the hook. Again, the MC: "54.7 pounds!" No one was doing the math fast enough - before anyone could tally it up, Jack Holmes, the MC, announced that they had moved into first place with an aggregate weight of 103.13! Pandemonium!
Camera flashes were going off everywhere, and Jack was shouting that "Can you believe that? Unbelievable! Two-time National Champions?", and so forth...because there were more boats in line to weigh fish, and the Rumored Whopper had yet to show up. I was in knots, and the next few minutes were a blur, until I heard Jack say, "...here's the last boat, the last one", and saw the size of their bag. And knew.
Team OIFC Rocks! SKA National Champions for the Second Time!
Here's a shot of the Tournament Site at sundown from Stephanie: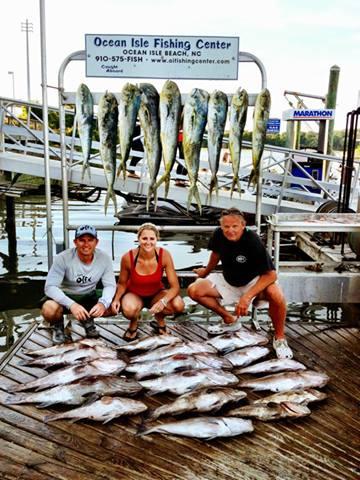 Image courtesy Stephanie Beach McMullan
They are my Champs. Great SportsMen and SportsWomen and SportsChildren.
And thanks to Stephanie, who was on shore tending to her 4 month old daughter (future SportsWoman), we have these beautiful photos.
Happy, Happy.