I am secretly in love with Guy Fieri of Diners, Drive-Ins, and Dives. In the past few days, he's taught me a personal, private, and invaluable lesson on Weight Loss.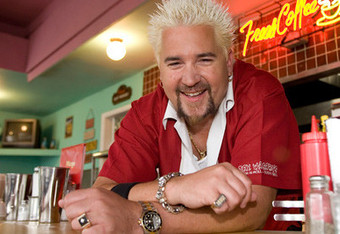 It's pretty simple, really, and I don't know why I didn't think of it before...
Stop Eating Out and You Will Loose Weight.
Now. Here is why I know this is absolute fact.
For ten days, I have been immobilized with a severe flare-up of arthritis. My immune system has been so busy eating up all of my connective tissue that all I've had the energy to do is sleep and eat. No exercise - unless you can call taking a shower exercise. I haven't cut back on eating (you have to have some pleasure in the middle of all that agony) but at the end of ten motionless days, I have lost three pounds. I was puzzled about this until I sat down last night to watch the Triple D show for the Thousandth Episode.
See, Guy Fieri goes into the kitchens of favorite diners and takes his cameras and film crew with him to record how they make all that delicious food. And THAT'S where the
I know this image from the restaurant Pine State Biscuits via Noble Pig is a little over the top but the point is, there is an amazing amount of fat and salt in restaurant food. Just watch any episode of Triple D and you will see the ingredients going into the restaurant pot. Lots of salt, always. Lots of butter/lard/oil, always. Doesn't matter what they are cooking, those two ingredients are always there...Because They Taste Good!
When you eat at home for 10 days, and steam or lightly sautee everything you cook, there are no extra calories, no extra salt. No restaurant sneaky yummy tricks to fatten you up.
So there is a new trick on your weight loss plan - simply eat at home more often. Isn't that easy? You will save money and loose weight at the same time!
Sigh...that gravy sure does look good....