So, here is the newest addition to the line... I knew when I saw this brown fabric that I loved it, but had no idea how very much I was going to love it made up. This is my new favorite bag - at least for today.

MC839

Here is another shot - I know that mid-day isn't the time to take outdoor photos, but I just HAD to show you this bag. Better photos later for the website...
MC839 Peek at inside

In between packing up my Ocean Isle cottage for some badly needed repairs/renovation, zooming back to Atlanta to clean up the debris from Saturday's storms, and sewing like mad, I also managed to snag an appointment with a leather cord manufacturer for tomorrow. Hang on to your hats, LEATHER HANDLES may be coming to Lula Belle!
Here is a sneak preview of the cord I would use for handles in natural brown: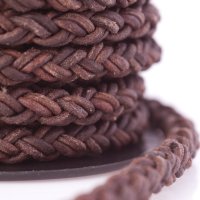 I'll know the minute I see it tomorrow if it will work for our bags - there are many colors to choose from - even pink!
Pink Cord before being Braided
So, fingers crossed that it doesn't look too heavy; I've always wanted my Mitzi Cornelius Bags and Satchels to have leather handles. Love the lightweight Bamboo, but we do need a different look on some fabrics, and especially our Fall Bags.
Back to the workroom...so much to do!