All Rightee Then. When I finished writing about my zippy new
Book Binding
skills, I was heading into the "Pomegranate Book" at the end of that post.
The Pomegranate Book covers...before I looked closely.
That was before Arthritis hit with a vengeance, and I was out of action for days and days. When I finally eased back into the studio again and picked up the ready-to-go Pomegranate Book covers and started to work with them, it became VERY apparent that the black toner didn't cover the paper evenly. So I turned the paper around, re-printed...and then re-calibrated and re-printed...and so on and on. I simply could not get a solid layer of black. Period.
You probably don't know this, but ALL of the stationery, note-pads, catalogs, store signs, hang tags, and Shopping Bag labels for Lula Belle Tassels and Tideline Fabrics were printed on my trusty old HP4500 Color Laserjet printer, that is now about 12 years old. Thousands and thousands of items printed by this old guy:
I bought this printer in 1999! Still works pretty good, if you don't mind lots of cuddling and maintenance. Which I don't. We have become true-blue friends, and work equally hard in the studio.
He is so old that I have to search out spare parts from Second Chance Industries on Ebay. Great bunch of guys down there, who cheer me on for keeping him up and running.
Considering his age, and the service he has given me, I decided while on the long drive back to Atlanta to quit pushing him so hard and start easing him into retirement. (He doesn't know this yet.) Like thoroughbred horses put out to pasture:
Quietly, I started the search for a new printer, and after days and days of shopping, trial runs, and a very knowledgeable technician at
Printer Showcase
, I realized that although the new laser printers are fast and efficient, they won't handle the heavy, textured cardstock I like to use - they don't lay down enough toner, and they don't "mash" the toner into the paper like my old guy. The only one I found was the Xerox 6280:
That image looks great coming out of the printer, but it cost about 24 cents to print!!
Great quality, but far too expensive for production runs. I tested OKI, Ricoh, Kyocera, HP, and Xerox, and was interested to see the really different print quality coming out of each of them. And was further intrigued by the incredible range of "set-up" properties offered for each print job. Most offered 2 or more printing platforms, but the printer that had the widest range of possibilities within my budget was the Ricoh 430dn. It won't print on textured cardstock, but does print everything else beautifully, for less than .05 cents per page. So, One Thousand Dollars later, I have a new printer on the way.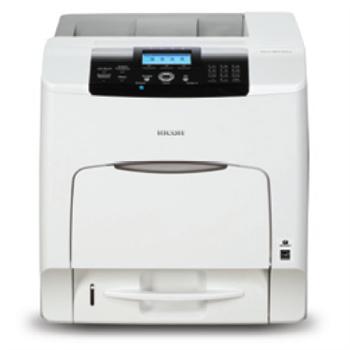 All because I loved my Pomegranate Book Design too much to give up, and because I secretly love a pure black background for images. Thanks to Scot over at
Printer Showcase
in Marietta for spending the better part of two afternoons working on my needs and running all my test prints to get Just the Right Printer to take the load off my old guy. Who will still do my textured printing, only not black.
So now, while I wait for my new printer, I'm going to work on the next Fabric Design Contest at
Spoonflower Printing
!